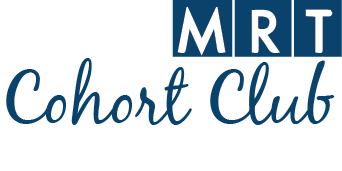 THE BIG IDEA
Members of the Cohort Club have the unique opportunity to become a part of the creation of professional theater right here in Lowell. They are a part of the team through observations of the rehearsal and production process, and conversations with the artistic team.
The Cohorts are 20-30 people from Lowell and the surrounding areas of varied ages, races, and backgrounds. They follow three shows from start (first rehearsal) to finish (Opening Night)
Cohorts are being accepted for all of the shows in the 2017-18 Season.
OUR PART
MRT provides the Cohorts with unprecedented access to the artistic process – and access to learning opportunities (chats with staff, tours, behind-the-scenes events, etc).
They are welcome at all rehearsals, including technical rehearsals and preview performances. Even when they can't make it, they'll know what's going on - each member of the club receives daily rehearsal and performance reports.
They have scheduled opportunities to chat with the director, playwrights (when possible), designers and actors to gain a deeper level of understanding.
They have a scheduled time to watch us add in the technical elements: first time with the set, adding in lights, costumes, special effects, and have the chance to meet many of the local artists who build our sets, make our costumes, and generally keep the place running.
We'll also find a few post-rehearsal nights for everyone to go for drinks to allow for conversation amongst artists and audiences outside the rehearsal room.
THE COHORTS' PART
Cohorts read the scripts we provide in advance of the first rehearsal.
They agree to attend at least two rehearsals a week. The length of time spent varies – most people do about an hour. We send them a schedule in advance and a daily email with the following day's schedule on it.
They agree to write about their experience in whatever medium they find the most exciting (blog, pen and paper, Twitter, Facebook), and we may repost their writing on MRT's blog.
READ MORE
Learn how the program went in Rochester.
https://gevajournal.wordpress.com/2013/03/14/clubbing-at-geva/
http://gevajournal.wordpress.com/2014/05/27/cohort-year-2-wrap-up-one-of...
NEXT STEPS
Interested in becoming a Cohort? Write Sean at sean.daniels@mrt.org and let him know why you'd be a good fit.