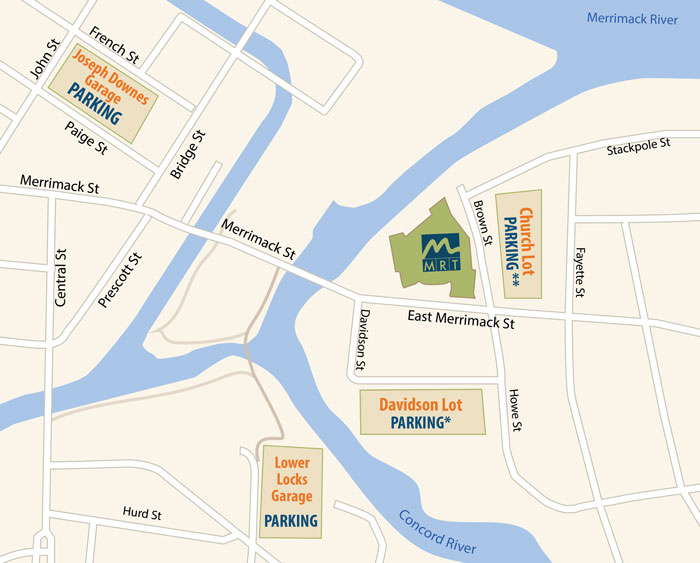 Davidson Lot: 1-199 Davidson St. Lowell
Thanks to the City of Lowell, we will again offer a select number of free spots in the lot at the end of Davidson Street to Subscribers and Producers Circle Members. Davidson is the small street directly across from the Lowell Memorial Auditorium (LMA) entrance. The lot is gated, and we will have security on hand during every performance.
Note the * on the map. Free parking for Subscribers and Producers Circle members only.
Church Lot: 144 East Merrimack St. Lowell
Note the ** on the map. The Immaculate Conception Church generously offers parking for free to MRT patrons when not in use by Lowell Memorial Auditorium (LMA) or the Church itself. When in use by LMA, you must pay a fee to park. Visit https://lowellauditorium.com/ticketed-events/ and http://iclowell.org/content/mass-schedule/ for schedules.
Garage Parking
Garage parking is available for $5 with validation provided at MRT Concession Stand at:
Lower Locks Parking Garage: 90 Warren St. Lowell
John St. Parking Garage: 75 John St. Lowell
Street Parking
Street parking for evening and weekend performances is available first-come, first-served. MRT is not responsible for parking tickets or tows.
PHOTO (l-r) Polly Lee, Natasha Warner and Erin Felgar in Cry It Out. Photo by Meghan Moor