LIVE THEATRE
More than a gift, it's an experience!
HOLIDAY BONUS
BLACK FRIDAY/CYBER MONDAY - NOW THROUGH DECEMBER 1
Every $50 gift certificate worth $60! 
For every $50 gift certificate, we will gift you an extra $10 - November 25-December 1. Purchase a gift certificate for $50 or more, and we will email you a $10 bonus voucher. (Purchase a certificate for $150, and we'll email you vouchers for $30!!). Gift certificates do not expire and can be exchanged for any MRT items except cash - individual tickets, subscriptions, donations, education classes, etc. 
CLICK the image below to purchase. See below the image for more details.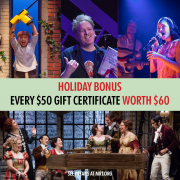 PHOTOS (clockwise from top left): Navida Stein in Native Gardens; Dan Finnerty in Little Orphan Danny; Matthew Yee and Aja Wiltshire in Cambodian Rock Band (photo by Liz Lauren, courtesy of Victory Gardens Theatre); Katie Grindeland, Veronika Duerr, Vichet Chum, Amanda Collins, Alexis Bronkovic, Jesse Hinson, Victoria Grace, and Shawn K. Jain in Miss Bennet: Christmas at Pemberley. Photos, except where noted, by Meghan Moore.
Gift Certificates
Why buy a thing when you can buy an experience?
From $10 and up. Good for any show through June of 2022. It's the gift they will remember. Available in any increment. Can be applied to any ticket, including subscriptions. Gift certificates do not expire. To purchase a Gift Certificate, contact the Box Office at 978-654-4678 or buy online.
PHOTO (l-r) Benim Foster and Kahleen Wise in Talley's Folly. Photo by Meghan Moore