Creative Team
VICHET CHUM ("Guy", Playwright)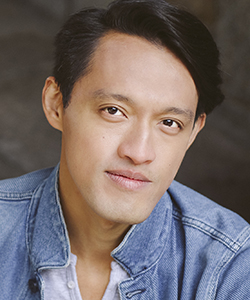 Vichet Chum is a Cambodian-American actor, writer, director & theater maker, originally from Dallas, Texas and now living in the best city in the world, New York City. Regionally, he's worked at Trinity Repertory Company, Actors Theatre of Louisville, the Guthrie Theater, Shakespeare Festival St. Louis, the Huntington Theatre Company, Everyman Theatre, New Harmony Theatre and now (!) Merrimack Repertory Theatre. In NYC, he's worked at the Cherry Lane Theater, Pan Asian Repertory Theatre, the Clurman Theatre at Theatre Row, Project Y Theatre, Woodshed Collective, Slant Theatre Project and the Incubator Arts Project. His plays have been workshopped at Second Generation Productions, Weston Playhouse, Cleveland Public Theatre, All For One Theater and Amios. He's also a co-founder and resident member of the arts company The Group Lab (thegrouplab.com). Last, but certainly not least, he is a proud graduate of the University of Evansville (BFA) and Brown University/Trinity Repertory Company (MFA). vichetchum.com
Founder/CEO of American Records (making theater that chronicles our time, theater that serves as a bridge between people) and Head of MFA Directing, UT Austin. She's directed Off-Broadway and (select list) The Goodman, CENTERSTAGE, Actors Theatre of Louisville, Cincinnati Playhouse, Milwaukee Rep, and Studio Theatre (DC). Her plays have been produced at (select list) Berkeley Rep, Playmakers Rep, Asolo Rep, Actors Theatre of Louisville, Center Stage, Round House, Cornerstone and Off-Broadway. She is an Associate Artist with Cincinnati Playhouse in the Park, and The Civilians, as well as a New York Theatre Workshop Usual Suspect. She's a Fox Fellow, Douglass Wallop Fellow, and recipient of the Rella Lossy Playwright Award.
Dan Conway (Scenic Designer)
MRT: Debut. Broadway: Penn & Teller on Broadway. Regional: Studio Theater' A.R.T.; South Coast Rep; Chicago Shakespeare; The Shakespeare Theatre; Arena Stage; Woolly Mammoth Theatre; Signature Theatre. Other: 15 time nominee and recipient of four Helen Hayes Awards for Outstanding Set Design.
Szu-Feng Chen (Costume Designer)
Szu-Feng Chen is a designer from Taiwan where she received her Bachelor of Fine Arts degree in Theatrical Design from Taipei National University of the Arts. She has designed and painted for performing arts in theatre, opera, dance, and film for 20 years.  Her design works were seen in international exhibitions including United States Institute of Theatre Technology Biannual Design Expo in 2014, World Stage Design in 2009 (Korea) and 2005 (Canada), Prague Quadrennial International Exhibition in both 2007 and 2003, Beijing Annual Theater Art Exhibition in 2002. She holds a Master of Fine Arts in Scenic Design from The University of Texas at Austin. Szu-Feng currently serves as the Director of Design and Theatre Technology at University of New Hampshire, Department of Theatre and Dance. http://www.szufengchen.net
Brian J. Lilienthal (Lighting Designer)
MRT: 25 productions including: Silent Sky, Women in Jeopardy, The Making of a Great Moment, The Realness: a breakbeat play, 45 Plays for 45 Presidents, Going to See the Kid. Regional: Over 250 productions at: Huntington Theatre; Arizona Theatre Co; Milwaukee Rep; Cleveland Playhouse; Pasadena Playhouse; South Coast Rep; Actors Theatre of Louisville (60 productions; 20 world premieres); GEVA Theatre Center; The Kennedy Center; Gloucester Stage; Cincinnati Playhouse in the Park; Arden Theatre; Trinity Rep (over 25 productions); Playmakers Rep. Opera: Long Beach Opera; Bard Summerscape; and Portland Opera Repertory Theatre. Awards: Los Angeles Ovation Award for lighting design; MRT's Artistic Achievement Award, 2016; nominated multiple times for Boston's IRNE Award. Education: MFA: California Institute of the Arts. Other: Teaches lighting design at Tufts University; member of Patriots Program at MRT; Resident Lighting Designer, National Playwrights Conference, Eugene O'Neill Theatre Center 2007-2015. Mr. Lilienthal lives in Somerville with wife, Emily, daughter Eliza, and dog Babe. He plays drums in a rockabilly/jump blues band that plays throughout the Boston metro area.
David Remedios (Sound Designer)
MRT: The Royale, Women in Jeopardy! (Onstage Theatre Award); The Making of a Great Moment (also at Z Space, San Francisco); Abigail/1702 (IRNE nom.); Home of the Brave; I and You (also at 59E59); Out of the City (IRNE nom.); Oceanside; The Best Brothers; Year Zero (original music and sound); Two Jews Walk into a War (also at Geva Theatre); The Blonde, the Brunette, and the Vengeful Redhead. Recent: The Curious Incident of the Dog in the Night-Time; The Scottsboro Boys (IRNE Award), Speakeasy Stage; Out of the Mouths of Babes; The Effect; The Totalitarians, Gloucester Stage; Romeo and Juliet; Our American Hamlet, Commonwealth Shakespeare Company; The Niceties; Wild Horses, Contemporary American Theater Festival; Faithful Cheaters, Trinity Rep; Finish Line, Boston Theater Company at Shubert Theatre. Regional: Huntington Theatre Company; American Repertory Theatre; Portland Stage; The Studio Theatre; Theatre for a New Audience; La Jolla Playhouse; Berkeley Rep; CENTERSTAGE Baltimore; Cincinnati Playhouse. International: Prominent arts festivals in Bogotá, Paris, Hong Kong and Edinburgh. Awards: IRNE, Connecticut Critics Circle, Elliot Norton. David is Assistant Professor and Program Head of Sound Design at Boston University, a proud member of United Scenic Artists Local USA 829, and a founding member of MRT's Artistic Patriot Program. remediossound.com
Jon Haas (Projection Designer)
MRT: Debut. Regional: Scenic/Projection Designer Momentum and Bodies and Souls (UT-Austin Dance Repertory Theater); Projections Designer, Best of Enemies (Manbites Dog Theatre). Film: Producer/Director, Still Point (Lonely Lamp Productions). Education: Currently completing MFA in Integrated Media Design, UT-Austin. BA Dramatic Arts, UNC-Chapel Hill. Other: Co-runs the Dance and Performance Company VECTOR alongside choreographer Leah Wilks.
Photos
Written and Performed by Vichet Chum
Directed by KJ Sanchez
Press wishing to download high-res photos can do so from our Flickr collection.
Video
SaveSave
SaveSave
SaveSave
SaveSave