Details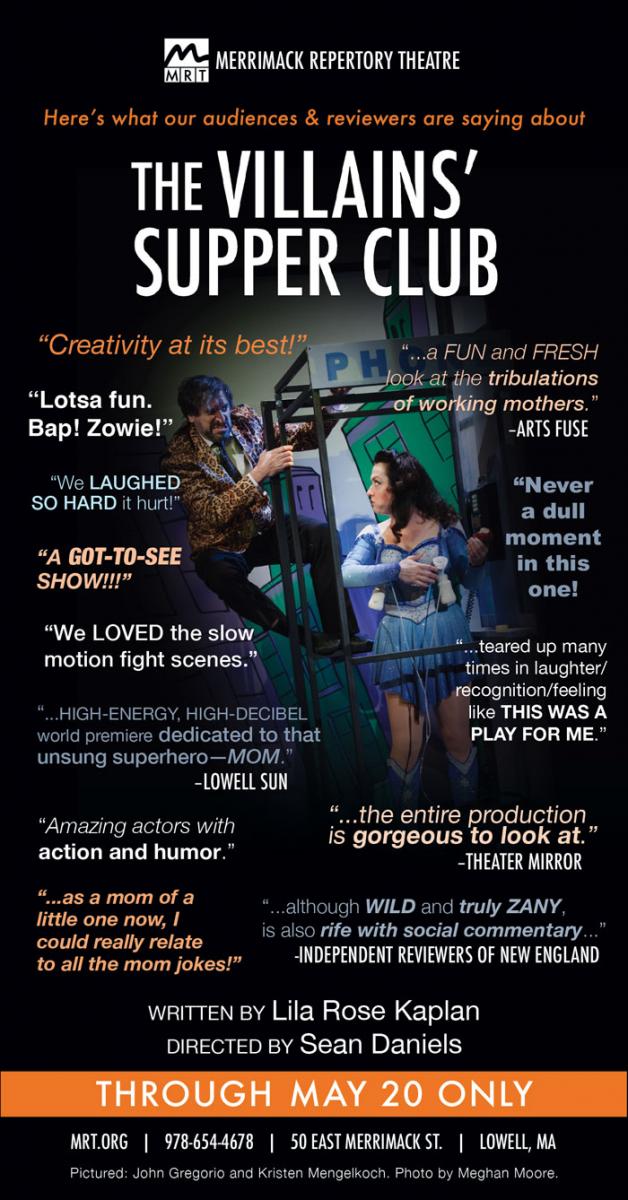 Estimated Running Time: approximately 90 minutes with no intermission (subject to change.)
Age appropriateness for The Villains' Supper Club is 16+, children under 16 have to be accompanied by parents or guardian.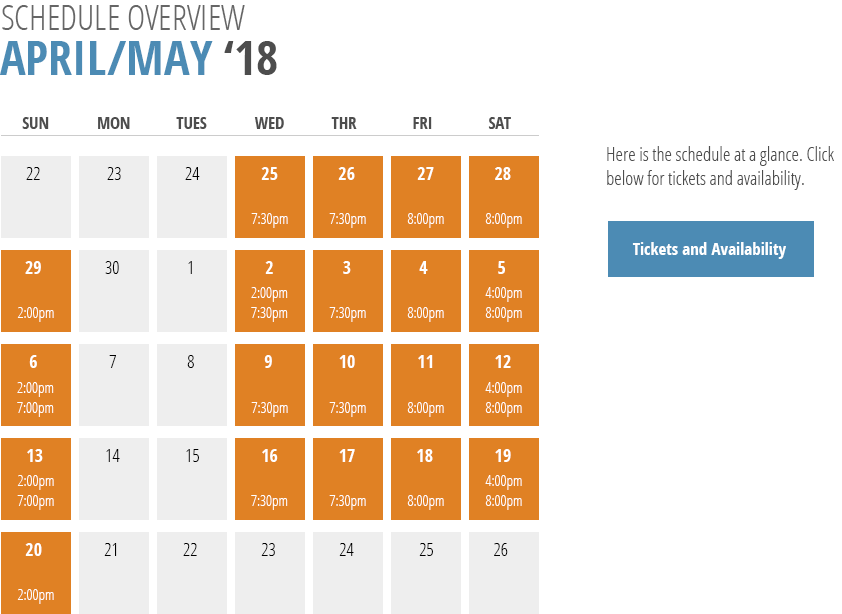 $5 NIGHT: April 25, 7:30 pm (Tickets on sale at 4:30 pm)
LOWELL NIGHT: May 2, 7:30 pm (Tickets on sale at 4:30 pm)
ASK THE ARTISTS POST-SHOW DISCUSSION: April 26 and May 10
STAGESOURCE PARITY PARTY: April 26, 7:30 pm
EDUCATOR DISCOUNT DAY: May 5, 4:00 pm
MILITARY DISCOUNT DAY: May 5, 4:00 pm
LADIES NIGHT: May 10, 6:00 pm
BOSTON PLAYWRIGHTS NIGHT: May 12, in our lobby after the 8:00 pm show.
SaveSave
SaveSave
SaveSave
SaveSave
SaveSave
SaveSave
SaveSave
SaveSave
Creative Team
Barlow Adamson (Fibian the Frog)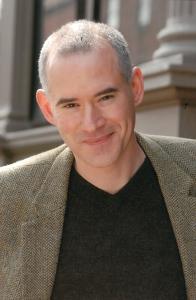 Barlow is a Boston-based actor and thrilled to be making his MRT debut! He has performed on many local stages including: Speakeasy Stage Company (Kurt Vonnegut's Make Up Your Mind, Reckless, Almost Maine, Fuddy Meers); Nora Theatre Company (Marjorie
Prime, Operation Epsilon, On The Verge, The Swan, Stop Kiss); Underground Railway (Paradise, Yesterday Happened: Remembering H.M.); Lyric Stage Company (Chinglish, Time Stands Still, The Scene, Private Lives, Noises Off, Red Herring); Boston Playwrights' Theatre (The Honey Trap - Elliot Norton nominee for best actor, Elemenopea, Reconsidering Hanna/h, Matters Familias, Haymarket); Huntington Theatre Company (The Maiden's Prayer, A Month In The Country); Bridge Repertory Theater (Sixty Miles To Silver Lake); Gloucester Stage Company (The Norman Conquests, Dinner With Friends); New Repertory Theatre (A Christmas Story). Barlow is an artistic associate of the Mill 6 Collaborative and directed its productions of Shakespeare's R+J, Bunbury: A Serious Play For Trivial People, and The Monster Tales. He also directed the world premieres of John J King's From Denmark With Love and Bear Patrol for Vaquero Playground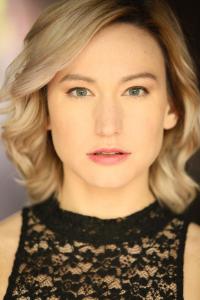 Maggie couldn't be happier to be making her Merrimack Repertory Theatre debut! Off Broadway/NYC: Hot Mess (Jerry Orbach Theatre), Walken On Sunshine (FringeNYC), The Angel of Allegheny County (New Wave Theater Collective). Regional: Hand to God (City Theatre), First Date, Judge Jackie Justice, Kopit and Yeston's Phantom (Pittsburgh CLO), Country House (The REP). Readings/Workshops: Dry Bones, Nomad Motel, The Consequences, You Are What You (City Theatre), Xanadu, First Date, Judge Jackie Justice (PCLO). Film/TV: Gone (NBC), Help Me First (Drafthouse). Web: Maggie vs Evil Dead (creator, writer, and star), Conversations w/ My Ex (Fifty2&Nine Productions). NYC Producer: Walken On Sunshine. Producer: Maggie vs Evil Dead, Sweeney Todd (Carnivale Theatrics), … Spelling Bee, and Dog Sees God (Black and White Theatre Co.) Writing: Open House, The Sisters Sorella, Maggie vs Evil Dead. Maggie has also been a contributor to HorrorFuel, iamgeek, and FanFest. Maggie can be seen later this summer at TheaterWorks Hartford, where she will be reprising the role of Jessica in Hand to God. She loves her husband Billy very much. Instagram: @maggiecar. Twitter: @Magthecar
Lorene Chesley (Ms.Caliente/The Flame)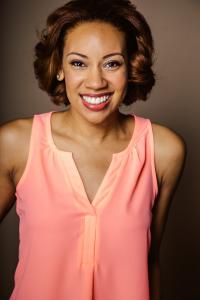 A native of the Washington D.C. Metropolitan area, Lorene grew up studying ballet and tap but quickly segued her love for performance into acting. She studied theater at Temple University and furthered her pursuit with an MFA, Acting at UCSD. Stage credits include playing Valerie Johnston in Smart People at Arena Stage, Cassandra in The American Woman at The Pasadena Playhouse, Delilah in Memphis at La Jolla Playhouse and playing Jessi Ramsey in Zephyr Theater's production of BCS: Mary Anne/Wedding. On television, Lorene has appeared on TNT's Perception, Showtime's Shameless and Freeform's The Fosters. She recently wrapped the third season of her YouTube talk show Looks, Lunch, Love with Lorene. Her faith book entitled The Perfectly Imperfect Christian will be released the summer of 2018.
John Gregorio (Lee the Leopard)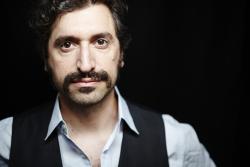 John is delighted to return to Merrimack Repertory Theatre. MRT: Going To See the Kid, Home of the Brave. Off Broadway: Around the World in 80 Days (The New Theater at 45th St), Silent Laughter (The Lamb's Theatre), The Nuclear Family (The Belt). Regional: Hard Times (Lookingglass), Treasure Island (Berkeley Rep), The Royale (Milwaukee Rep), ZM (Eugene O'Neill Theater Center), Little Shop of Horrors and The 39 Steps (Geva Theatre Center), A Christmas Carol (Actors Theatre of Louisville), A Funny Thing Happened on the Way to the Forum (North Shore Music Theatre), The Legend of Pecos Bill (Alliance Theatre), The Mystery of Irma Vep (Dad's Garage Theatre Co). Television: The Extended Family (Sundance), Good Eats (Food Network), Smoking Gun TV (Court TV). Other: John is a founding member of Dad's Garage Theatre Company (Atlanta) and The Nuclear Family (New York) with whom he teaches and performs improvisation around the country.
Kristen Mengelkoch (Galactic Girl)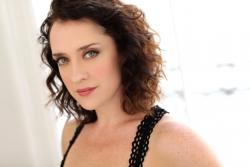 Kristen most recently appeared at MRT in Lost Laughs: The Slapstick Tragedy of Fatty Arbuckle and is thrilled to be back for more fun. Last year she wrapped up her role in the First National Tour of the Tony Award winning musical A Gentleman's Guide to Love and Murder. Off-Broadway she has performed in NEWSical The Musical and many editions of Forbidden Broadway (including the original cast recording of FB Goes to Rehab). Regionally she has appeared at Geva Theatre Center, Gateway Playhouse, Moonlight Stage, North Coast Repertory Theatre, The Theatre in Old Town (Miracle Theatre Productions), The Welk Theatre and Southern Colorado Repertory Theatre. Television: Veronica Mars. From 2007-2009, Kristen was the co-founder/co-producer of Ampersand Theatre Company in New York City. Kristen is a graduate of San Diego State University's Master of Fine Arts in Musical Theatre program. Following graduation, Kristen taught for two years as a professor with the same university. A native of Wichita, Kansas, she holds a Bachelor of Fine Arts in Theatre from Emporia State University. Love to MRT and the ferociously talented company of this "Supper Club." kristenmengelkoch.com
Jacob Sherburne (Damian the Dart)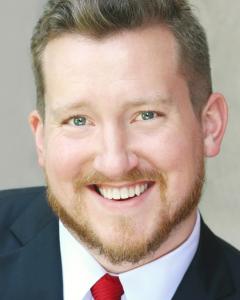 Jacob is proud to return to Lowell to make his Merrimack Repertory Theatre debut! Classically trained, Jacob is an Improv Boston alum with a strong baritone voice and a certification in hand-to-hand combat. Recent credits include: The Real Stephen Blatt (Amazon/
Funny-Or-Die), A Christmas Carol (Music Theater of Connecticut), Donkey Show (ART), Born Yesterday (Asolo Rep), and Joseph and the Amazing Technicolor Dreamcoat (Reagle Music Theatre). He has played Mercutio (R&J) for New Rep, Dr. Rank in Ingmar Bergman's Nora for Asolo Rep, starred as Albert in Bye Bye Birdie, and covered 13 roles at once in Guys and Dolls for Asolo Rep. In 2017, Jacob received his MFA from the FSU/Asolo Conservatory, where he trained under Patsy Rodenburg, Olympia Dukakis, Andrei Malaev-Babel, Jonny Epstein, and others. In 2011, he received his BA in Theatre and English from Boston College, where he got to study under Karen MacDonald, Remo Airaldi, and Patricia Riggin. Jacob has studied voice with Kevin Wilson and David Brunetti. Jacob lives in Mattapoisett with his wife, Sarah, and their giant 9-month old son, Gordon. Jacob is grateful to be here, working with Sean and Lila Rose and their team. Contact Jacob: jacobsherburne.com. See Jacob: @sherbythechild on Instagram.
MRT: Little Orphan Danny, Silent Sky, My 80-Year-Old Boyfriend, Women in Jeopardy!, The Making of a Great Moment, 45 Plays for 45 Presidents, Home of the Brave, Tinker to Evers to Chance, I and You, The Lion. Sean has directed at Manhattan Theatre Club (The Lion, Drama Desk Award & Theatre World Award, nominated for Lucille Lortel and Outer Critics Circle), Lynn Redgrave (NYC), The Kennedy Center (Washington, D.C.), St. James (West End, London – The Lion, winner of Best New Musical), Actors Theatre of Louisville, Arena Stage, Portland Center Stage, Geva Theatre, Old Globe, The Geffen, Playmakers Rep, A.C.T., Cleveland Play House, Milwaukee Rep, Alliance Theatre, California Shakespeare, Dad's Garage Theatre Company, Swine Palace, Neo-Futurists, Aurora Theatre, Crowded Fire and the Edinburgh Festival Fringe. Sean has been named "one of the top fifteen up & coming artists in the U.S., whose work will be transforming America's stages for decades to come" & "One Of 7 People Reshaping And Revitalizing The American Musical" by American Theatre magazine. His direction and shows have won "Best Play" and "Best Director" in the Bay Area, Portland, Rochester and Atlanta. He's previously served as the Artist-At-Large for Geva Theatre Center and spent four years at the Tony Award-winning Actors Theatre of Louisville as the theatre's Associate Artistic Director (where he directed 17 productions including five Humana Festivals). Mr. Daniels is the former Associate Artistic Director/Resident Director of the California Shakespeare Theater and before that spent a decade as the Artistic Director and Co-Founder of Dad's Garage Theatre Company in Atlanta. He has developed new work with the Eugene O'Neill Theatre Center, Ars Nova, PlayPenn, Lark, PlayLabs, New York Stage and Film, Asolo Rep, Goodspeed Opera, Weston Playhouse, Bay Area Playwrights, Magic Theatre and was the first American director asked to attend the Baltic American Playwrights Conference in Hiiumaa, Estonia. He'd love to hear from you, on Twitter @seandaniels or email him at sean.daniels@mrt.org.
Lila Rose Kaplan (Playwright)
Lila Rose writes plays that shine light on the stories we don't tell about women. Her heroines live in heartfelt comedies, bittersweet dramas, and musicals for young people. Her plays include Home of the Brave, Jesus Girls, The Magician's Daughter, We All Fall Down, 123 – a play about abandonment and ballroom dancing, Wildflower, Bureau of Missing Persons, 100 Planes, TINK, and Biography of a Constellation. Her musicals for young people include: The Light Princess, The Pirate Princess, and The Magic Fish. Productions: ART, South Coast Rep, Merrimack Repertory Theatre, New Victory Theatre, Second Stage, San Francisco Playhouse, Neighborhood Productions, Know Theatre, and Perishable Theatre. Development: Huntington Theatre Company, Trinity Rep, Arena Stage, Kennedy Center, Ensemble Studio Theatre, Center Theatre Group, Theatreworks, PlayPenn, The Lark, The Orchard Project, and Space on Ryder Farm. Awards: MRT Artistic Achievement Award, The National Science Award in Playwriting, and The International Women's Playwriting Award. Fellowships: Huntington Theatre Company Playwriting Fellowship, The Playwrights' Realm Writing Fellows, The Old Vic/New Voices Exchange, and The Shank Fellowship. Residencies: The Orchard Project, Space on Ryder Farm, New Rep Next Voices, Harvard Business School, and the Kavli Institute for Theoretical Physics. Education: BA with Honors, Brown University. MFA in Playwriting, UC San Diego. Coming up next: The Magician's Daughter premieres at Geva Theatre Center in 2019. Lila Rose lives in Cambridge with her marine biologist husband and her curious daughter. www.lilarose.org
Apollo Mark Weaver (Scenic Designer)
MRT: The Making of a Great Moment. Regional: Tinker to Evers to Chance, No Child, Geva Theatre Center; The Merchant of Venice, The Merry Wives of Windsor, Henry VI part 1, Utah Shakespeare Festival. Education: MFA in Scenic Design from Temple University, B.A. in Theatre Arts from Nazareth College. Other: Moth, Shitheads, Azuka Theatre; Son of a Dog, Walnut St Theatre, Studio 5; Complete Works of William Shakespeare (abridged), Mercury Theatre; Galileo, The Side Project; Ragnarok, Tantalus Theatre Group; The Gap, Azuka Theatre; Peaceable Kingdom, The Brownings, Orbiter 3;  as well as shows for various companies in Chicago, Philadelphia, Boston, Richmond, and Rochester. apolloweaver.com
Arthur Oliver (Costume Designer)
MRT: The Best Brothers, Equally Divided, The Blonde, the Brunette, and the Vengeful Redhead, Flings and Eros. Broadway: The New Victory, The Roseland Ballroom. Off-Broadway: 59E59 Theatres, The Laurie Beechman, Roseland Ballroom, The Bronx Opera, Mabou Mines. Regional: American Repertory Theatre, Alabama Shakespeare Festival, Shakespeare & Company, Berkshire Theatre Group, Children's Theatre Company, Atlanta Opera, The Stratford Shakespearean Festival, Chester Theatre Company, The Virginia Arts Festival, The Yard, Actor's Shakespeare Project, Wendy Taucher Dance, Opera, Theatre. International: The Moscow Ballet, The Edinburgh Fringe Festival. Film/Television: Speck's Last Stand, PBS, It Could be Worse. Education: Stratford Shakespeare Festival. Other: Arthur has designed productions featuring great performers and directors such as, Liza Minnelli, Carly Simon, Raquel Welch, Olympia Dukakis, Jerry Mitchell, Alison Fraser, Debra Jo Rupp, John Douglas Thompson. arthuroliver.com.
Brian J. Lilienthal (Lighting Designer)
MRT: Over 25 productions including: Little Orphan Danny, KNYUM, Silent Sky, Women in Jeopardy!, The Making of a Great Moment, Going to See the Kid, 45 Plays for 45 Presidents, The Realness: a breakbeat play. Regional: Over 250 productions at: Huntington Theatre; Arizona Theatre Co; Milwaukee Rep; Cleveland Playhouse; Pasadena Playhouse; South Coast Rep; Actors Theatre of Louisville (60 productions; 20 world premieres); Geva Theatre Center; The Kennedy Center; Gloucester Stage; Cincinnati Playhouse in the Park; Arden Theatre; Trinity Rep (over 25 productions); Playmakers Rep. Opera: Long Beach Opera; Bard Summerscape; and Portland Opera Repertory Theatre. Awards: Los Angeles Ovation Award for lighting design; MRT's Artistic Achievement Award, 2016; nominated multiple times for Boston's IRNE Award. Education: MFA: California Institute of the Arts. Other: Teaches lighting design at Tufts University; member of Patriots Program at MRT; Resident Lighting Designer, National Playwrights Conference, Eugene O'Neill Theatre Center 2007-2015.  Mr. Lilienthal lives in Somerville with wife, Emily, daughter Eliza, and dog Babe.  He plays drums in a rockabilly/jump blues band that plays throughout the Boston metro area. www.BrianJLilienthal.com
David Remedios (Sound Designer)
MRT: Knyum; The Royale; Women in Jeopardy! (Onstage Theatre Award); The Making of a Great Moment; Abigail/1702 (IRNE Award nomination); Home of the Brave; I and You (also at 59E59); Out of the City (IRNE nom.); Oceanside; The Best Brothers; Year Zero (original music and sound); Two Jews Walk into a War; The Blonde, the Brunette, and the Vengeful Redhead. Recent: Old Money; Romeo and Juliet (IRNE nom.); Our American Hamlet, Commonwealth Shakespeare Company; The Curious Incident of the Dog in the Night-Time (IRNE nom.); The Scottsboro Boys (IRNE Award), SpeakEasy Stage; The Effect, Gloucester Stage; The Niceties; Wild Horses, Contemporary American Theater Festival; Finish Line, Boston Theater Company at Shubert Theatre. Regional: American Repertory Theatre; Huntington Theatre Company; Portland Stage; Trinity Rep; Geva Theatre Center; The Studio Theatre; Theatre for a New Audience; La Jolla Playhouse; Berkeley Rep; CENTERSTAGE Baltimore; Cincinnati Playhouse. International: Prominent arts festivals in Bogotá, Paris, Hong Kong and Edinburgh. Awards: IRNE, Connecticut Critics Circle, Elliot Norton. David is Program Head of Sound Design at Boston University, a proud member of United Scenic Artists Local USA 829, and a founding member of MRT's Artistic Patriot Program. remediossound.com​​
Elizabeth Dombek (Projection Designer)
MRT: Debut. Zabet is delighted to be designing at MRT for the first time. Her recent endeavors include designing projections in-the-round at North Shore Music Theatre: A Christmas Carol '16 + '17, 42nd Street, Evita, Young Frankstein, and Mary Poppins. Zabet's B.A. Media Arts at the University of New Mexico includes working with their Full Dome & several Immersive Art Instillations. Special thanks to her incredibly supportive fiancé, friends, and family. zabet.space
Chad Cunningham (Illustrator)
Chad has been drawing since he was first able to hold a crayon and learned how to read in order to follow the stories in the comic books his mom bought him as a kid. Chad splits his time between working at a library and doing artwork to share online. The Villains' Supper Club is his first theater project and it has been a world of fun!
Angie Jepson (Fight Director)
Angie is a fight director, actress, and professor in the Boston area. Fight directing credits include: Tiger Style!, Becoming Cuba, and M with the Huntington Theatre Company, Romeo and Juliet with Com-monwealth Shakespeare Company, Fences with Gloucester Stage Company, The Scottsboro Boys, Appropriate, Bloody Bloody Andrew Jackson, and Bad Jews with SpeakEasy Stage Company, Camelot with New Repertory Theatre, and Guards at the Taj with Central Square Theatre, among many others. As an actress, Angie has worked with many of the same companies, and as a professor, Angie currently teaches at the Boston Conservatory at Berklee, the American Repertory Theatre Institute program, the New England Conservatory, and UMass Boston. In addition to her career as a theatre artist, Angie is a mom to a rambunctious and joyful toddler. She is thrilled to work on Lila Rose's fantastic script that combines two of her greatest passions: motherhood and superheroes! Angie received her MFA in Acting from Brandeis University, and she is a Certified Teacher with the Society of American Fight Directors.
Photos
Written by Lila Rose Kaplan
Directed by Sean Daniels
Press wishing to download high-res photos can do so from our Flickr collection.