PRESS RELEASE - FOR IMMEDIATE RELEASE
DATE: AUGUST 5, 2015
CONTACT: Kate Brandt, kate.brandt@mrt.org
PR CONTACT PHONE: 978-654-7595
BOX OFFICE: 978-654-4678
ONLINE: mrt.org
Photo:
Megan Sandberg-Zakian photo is attached or to download, visit https://flic.kr/p/w1f5rb

MRT'S MEGAN SANDBERG-ZAKIAN RECEIVES
PRINCESS GRACE FOUNDATION AWARD
Boston director becomes Director in Residence at MRT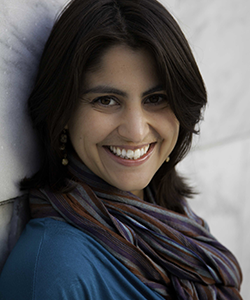 Lowell, MA –The Princess Grace Foundation-USA (PGF-USA) announced its 2015 awards winners today, among them, Megan Sandberg-Zakian, whose proposal was sponsored by Merrimack Repertory Theatre. The prestigious fellowship will allow her to serve as Director in Residence at MRT. Sandberg-Zakian is one of seven theatre artists who received the grant this year. In total, the PGF-USA announced grants totaling more than $1 million in the fields of theater, dance and choreography, and film. The awards continue the legacy of Princess Grace (Kelly) of Monaco, who helped emerging artists pursue their artistic goals during her lifetime.
As Director in Residence, Megan Sandberg-Zakian will develop, direct, and be instrumental in the creation of work that will premiere in MRT's and other theatre's upcoming seasons. She will work closely with MRT Artistic Director Sean Daniels, who calls her, "one of the most exciting, theatrical and inventive directors in the Boston area." He adds, "We're very lucky to have her joining the MRT artistic staff moments before the rest of the world figures out what Boston already knew. She'll be directing for us this year and next – working to bolster our new works program by developing shows she's passionate about."
Sandberg-Zakian, who is also a member of MRT's recently announced Patriot Program, is slated to direct "It's a Wonderful Life: A Live Radio Play" for the company in December 2015 and a not-yet-announced play in MRT's 2016-17 Season.
She remarked, "I'm thrilled and honored to be in such inspiring company as a Princess Grace Foundation Fellow - the 2015 cohort and the many alumni are all extraordinary. I'm very grateful to the PGF-USA for enabling this collaboration with Sean and MRT, which will connect me with exciting artists from around the country and allow me to develop new work at a scale I haven't yet experienced. Sean is re-invigorating a beloved Massachusetts regional theater by bringing in a diverse and dynamic group of nationally renowned artists while simultaneously connecting more with the local community - which is exactly the kind of work I'm looking forward to doing as an Artistic Director in the future, so this is a perfect match."
The Princess Grace Foundation-USA is a non-profit, publicly-supported foundation, headquartered in New York City and founded 33 years ago by Prince Rainier III of Monaco to honor his wife, Princess Grace's [Kelly] legacy. The Foundation's mission is dedicated to identifying and assisting emerging talent in theater, dance, and film by awarding grants in the form of scholarships, apprenticeships, and fellowships. Since the Foundation's inception, more than 800 recipients have been awarded, totaling over $13 million. Some notable Princess Grace Awards recipients in theater include: Tony Award winner for Best Direction of a Play, Anna D. Shapiro; Pulitzer and Tony Award winning playwright Tony Kushner; Golden Globe nominee Oscar Isaac; and Academy Award winner Eric Simonson. For more information about the Princess Grace Awards program, please visit www.pgfusa.org
Merrimack Repertory Theatre (MRT) has been Merrimack Valley's professional theatre company since 1979, and is an integral part of Lowell's identity as the cultural heart of the region. The company is known for its high production standards and for creating compelling new plays and regional premieres that reflect the lives and emotions of its audiences. MRT is one of just three theatres in Massachusetts that is a member of the League of Resident Theatres (LORT), which has 72 members nationwide.

Merrimack Repertory Theatre
Performance Space: The Nancy L. Donahue Theatre
(In Liberty Hall, adjacent to Lowell Memorial Auditorium)
50 E. Merrimack Street
Lowell, MA 01852
Box Office: 978-654-4678