SUBSCRIBE NOW and SAVE UP TO 25%
The BEST SEATS, BEST PRICES -
See all 3 shows and SAVE up to 25% (as low as $18 per show in Preview Series/Zone D) PROMO CODE EBCUSTOM22 SUBSCRIBE NOW
②  ERMA BOMBECK: AT WIT'S END | JAN 19–FEB 6
America's funniest Mom. Ever.
③  BACK TOGETHER AGAIN: THE MUSIC OF
ROBERTA FLACK AND DONNY HATHAWAY | MAR 30–APR 17
The songs of one of music's most cherished duos in concert.
④  BEST SUMMER EVER | MAY 4-22
Summer for a kid—simple joys and startling surprises.
All Prices and Details here.
View the Seating Chart.
NOTE: Woody Sez is not part of any subscription package. However, subscribers will receive a steep discount to this special production.
WHY SUBSCRIBE?
You get the BEST PRICES, the BEST SEAT ASSIGNMENTS, FREE TICKET EXCHANGES when conflicts arise, and FREE PARKING. See the full benefits.
GRAB THE BEST DEAL NOW! WAYS TO SUBSCRIBE:
Online - For new four-show subscriptions, click here. PROMO CODE EBCUSTOM22
Download the order form here.
Email: Enterprise Bank Box Office at box_office@mrt.org
Call: Enterprice Bank Box Office at 978-654-4678
BOX OFFICE HOURS: 11 a.m. to 5 p.m. Tuesday through Saturday
HOLIDAY FLEX YOUR FUN
The ultimate combination of flexibility and savings. These tickets can be redeemed for any available seat throughout the season. Guaranteed seating in ZONES A and B. Use them all for one production or spread them out in any combination over the except for Woody Sez: The Life and Music of Woody Guthrie. Get four or five tickets that can be redeemed in any combination throughout the 2021-22 Season. Promo Code HOLIDAYFLEX.
$39 per ticket. Minimum 4. SPECIAL OFFER EXPIRES JAN 4.
Online FlexPass Purchase here.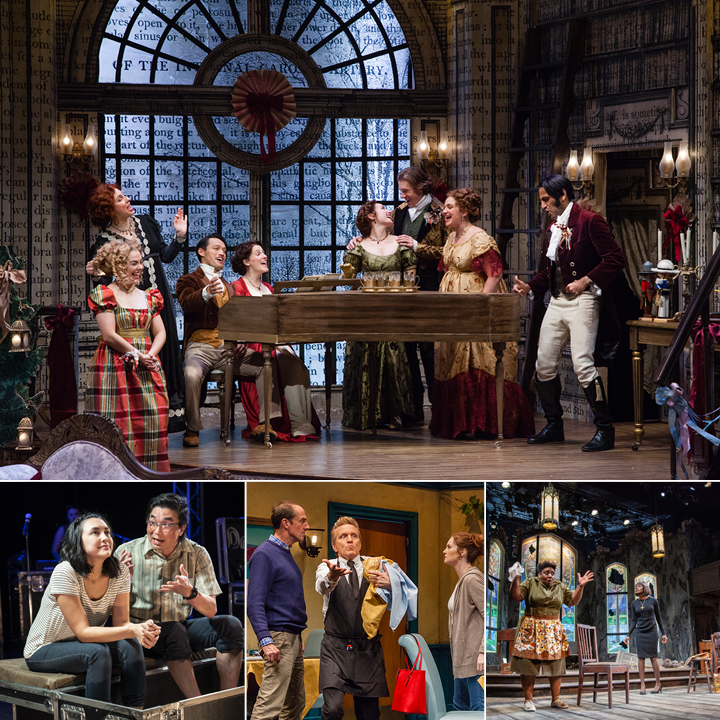 Photos on postcard: Photos, front from top, clockwise: The cast of "Miss Bennet: Christmas at Pemberley;" Deanna Reed-Foster, Dionne Addai, Daniel Riley in "Nine Simone: Four Women;" Joel Van Liew, Brian Beacock, Daina Michelle Griffith in "Slow Food;" and Aja Wiltshire and Greg Watanabe in "Cambodian Rock Band," photo by Liz Lauren, courtesy of Victory Gardens. (on back) Gabriel Marin, Vivia Font, and Joel Colodner in "Native Gardens." Except where noted, photos by Megpix/Meghan Moore.
NO ADDITIONAL FEES: All subscription prices INCLUDE a facility fee of $2 per ticket for the City of Lowell and a processing/handling fee of $7 per subscription.
PHOTO (l-r) Vichet Chum, Amanda Collins, Alexis Bronkovic, Katie Grindeland, and Victoria Grace in Miss Bennet: Christmas at Pemberley. Photo by Meghan Moore.